Ready to build your new custom pool? We're ready to make your backyard dreams come true!
Pool Construction in Dallas
Pool construction specialists Horizon Pools are one of the leading pool builders in Dallas. As an expert pool company specializing in the construction of inground swimming pools and spas, we pride ourselves on providing an unparalleled level of quality both in terms of design and construction.
When evaluating which Dallas pool builder to choose for your pool construction project, there is no shortage of highly qualified pool professionals in the Dallas area to choose from. Consequently, when picking a pool installer it's important to select a pool builder that best aligns with your vision for your outdoor living environment.
Quality of construction also plays an important part in the durability of your swimming pool. What separates us from many other pool companies in the local area is our attention to detail and focus on using the most up-to-date pool construction methods when building your pool.
Installation of Gunite Pools
Flat-out, gunite concrete pools are the best material pool construction on the market. Because of this, we think homeowners should be aware of additional drawbacks to different materials, so they don't end up unsatisfied with their decision. Fiberglass and vinyl pools have a number of advantages and disadvantages that prohibit a truly custom pool, which is why we focus on the highest grade premium materials.
Schedule a Pool Estimate
Call (972) 737-3254 or fill our the form below.
"*" indicates required fields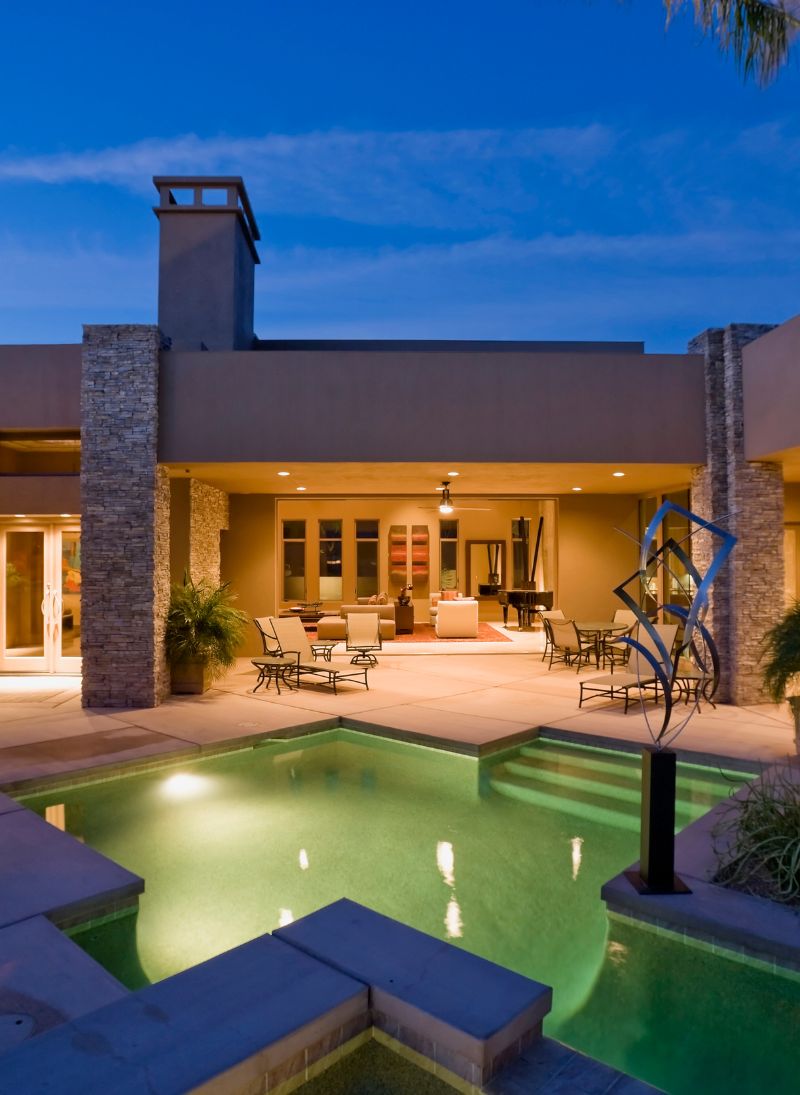 Selecting Materials for Your Pool Installation
One of the most common pool blunders is splurging on the wrong sort or material of pool.
In the same way that you get what you pay for in life, this is especially true of swimming pools. You can have a better pool by spending a little more money on a gunite pool.
Don't Skimp on the Decking
Another area where you don't want to cut corners is the pool deck. Because stamped concrete is easier to build, many pool companies utilize it for their pool patios. In addition to this, concrete has its drawbacks, such as the fact that it eventually cracks.
A pool patio has to do double duty as an entertainment area, and manmade pavers aren't always the greatest choice. For pool patios, we think travertine is the material of choice. There are no major cracks to worry about when you use it, and it doesn't get slippery when wet like concrete does.
Choosing the Right Pool Features
Falls, tanning platforms, swim jets and spa elements aren't just "add ons"; they can make or break a pool visit. The same goes for infinity borders and pool lighting.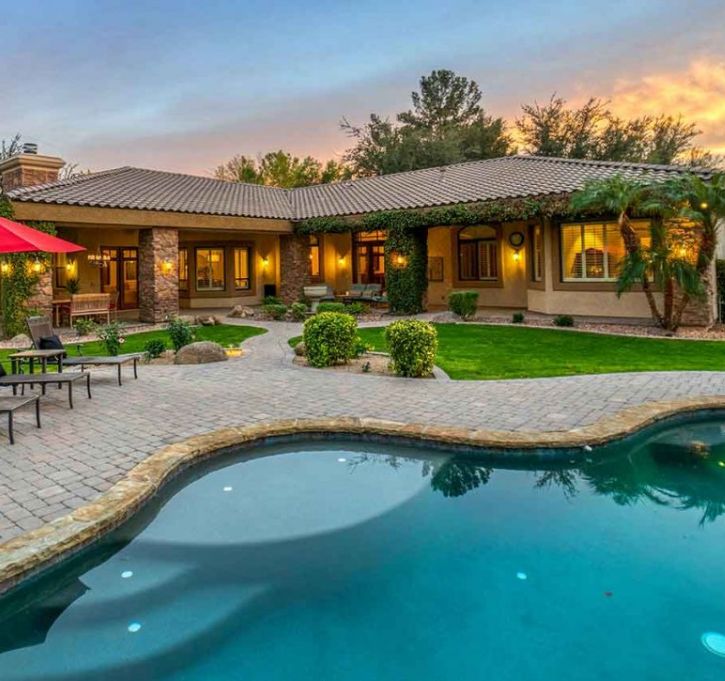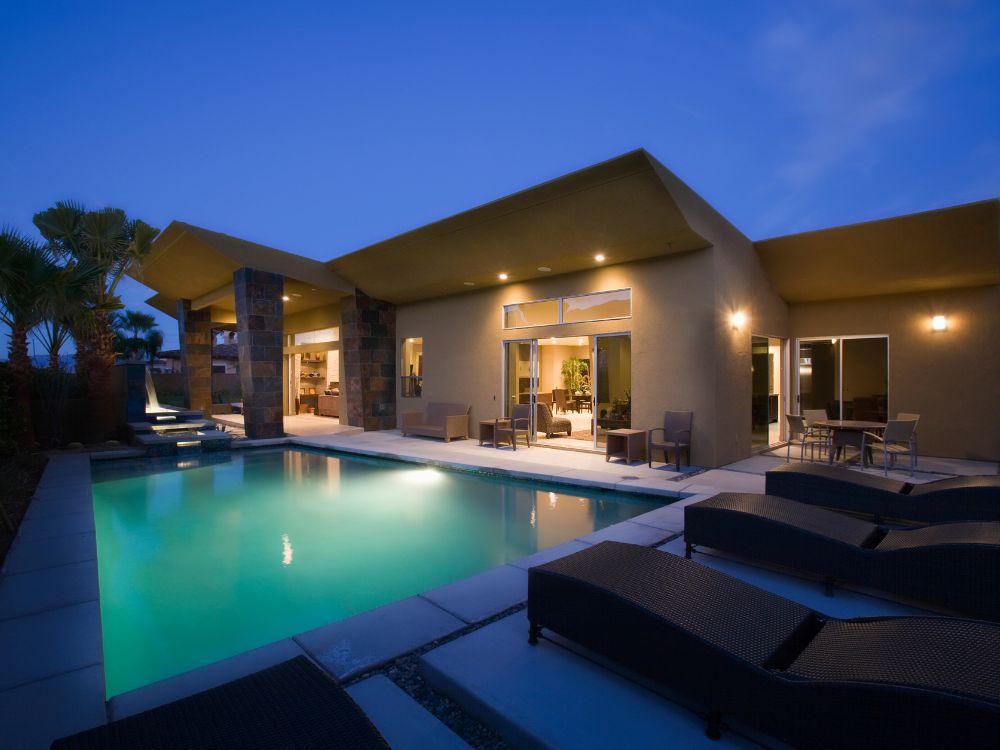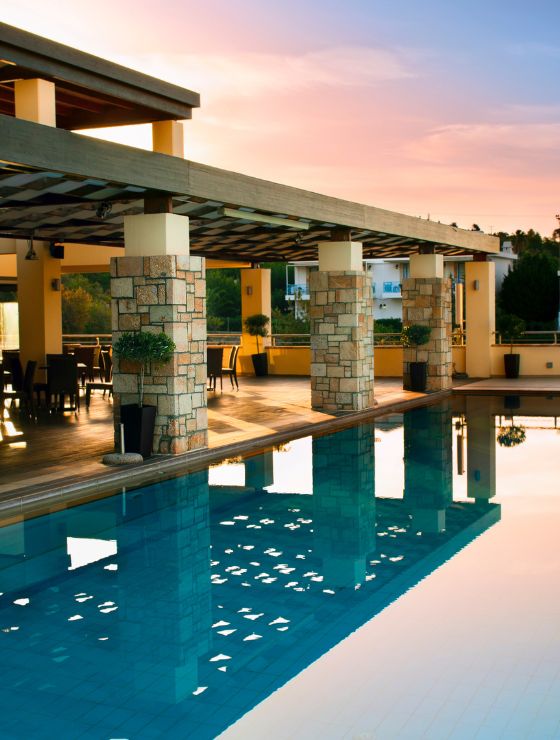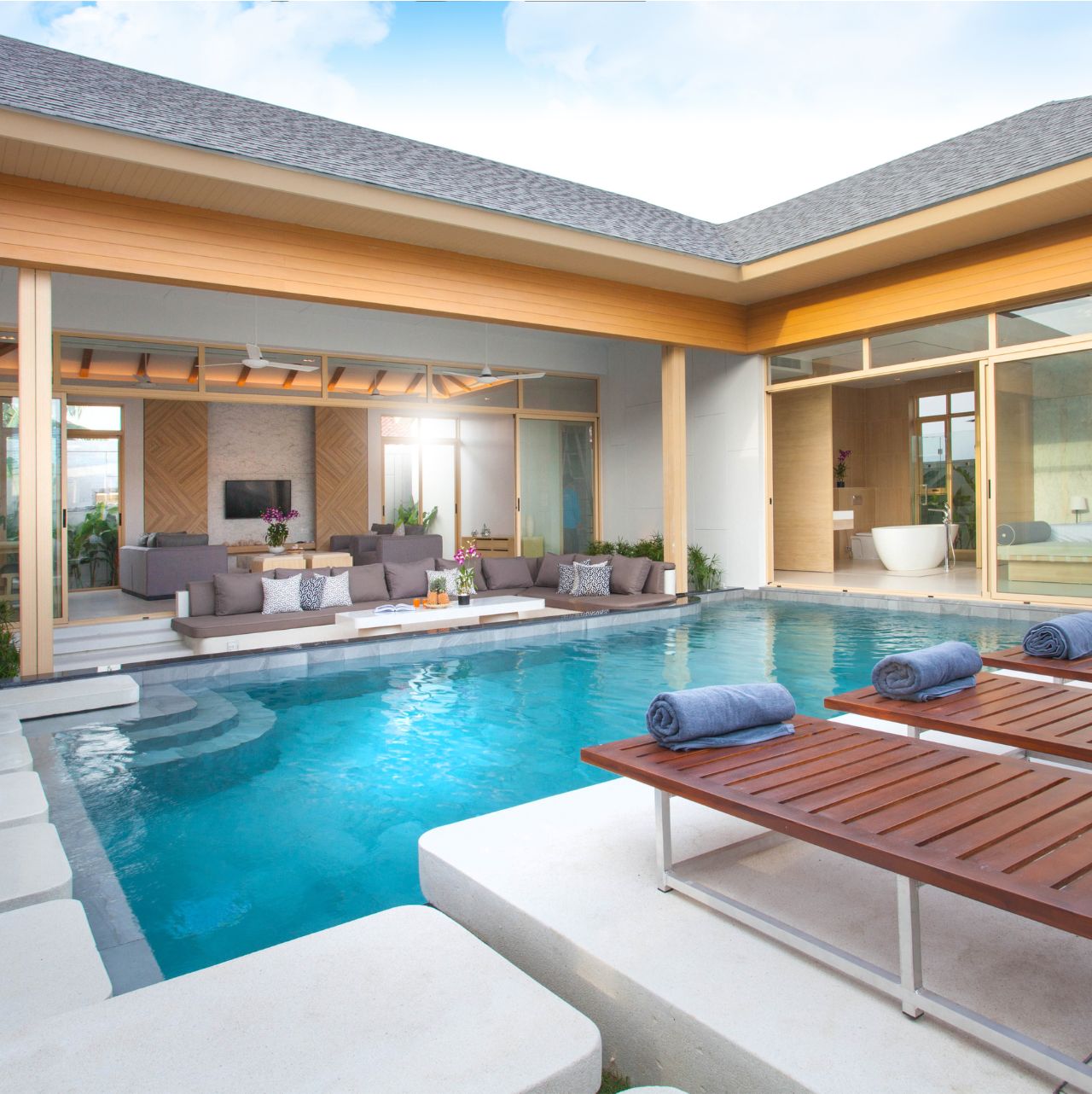 Enjoy Your Pool To The Fullest
These kinds of pool amenities encourage you to spend more time in the water and enjoy it to the fullest. When you're not actually swimming in the pool, add-on features also make it more enjoyable to relax and ejoy time poolside. The pool becomes more of an "oasis" where you may relax and unwind by including elements like lighting and water features. A lot of our customers tell us that when these features are turned on, it feels like the whole experience has been enhanced.
Planning Your Pool Installation Budget
Prior to installing your swimming pool, you should think about what features you want, as these often cannot be added at a later date. In the future, you may have the option of adding more features to the pool's perimeter, but you cannot add features that are integrated within the pool.
As a result, many homeowners are willing to spend a little more now to obtain the pool they've always wanted rather than settle for a less-than-ideal one that they'll have to live with forever.
Choosing the Right Pool Installation Company
Finally, the most important consideration before creating your swimming pool is having faith that the firm you've chosen is one that will help you achieve your goals.
Ask Questions & Do Your Homework
To be disappointed or to feel that it fell short in some manner is the last thing you want to experience when the pool is finished and ready to be enjoyed. It's understandable that you may not know what to search for or what to know before you begin the process of purchasing a swimming pool. As a result, choosing the correct pool installer is critical.
It's crucial to find a company that pays attention to every detail when it comes to your pool. A pool builder that knows the importance of every single detail, even the seemingly insignificant ones, is essential.
In the end, they should be pointing you in the right direction when it comes to improving your pool. Homeowner preferences and a pool builder's expertise combine to make the best pools. This is especially true when it comes to custom pools.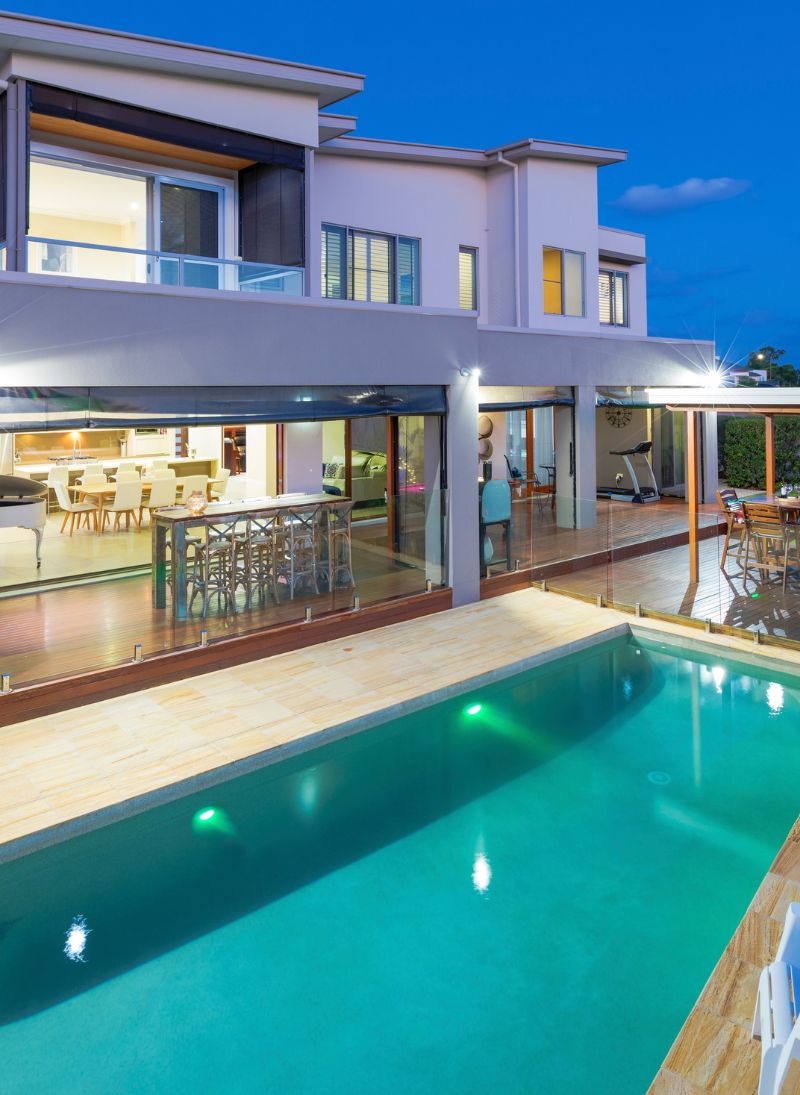 Pool Construction Process
01. Pool Design
The process of designing an inground swimming pool starts with designing your outdoor living area, pool, and patio. During this step in the pool construction process you will work closely with a pool design consultant.
Visualize & Plan Your Pool Design
Every aspect of your backyard will be planned including all of the various destinations such as your swimming pool, deck and any other outdoor amenities such as an outdoor kitchen, pergola, pavilion, fire pit, or conversation areas.
What a Pool Design Consultant Does
A pool design consultant can help to conceptualize what the ideal outdoor living environment will look like. A modeled visualization in 3D will capture all aspects of the pool and patio design. It's during this phase that changes can be made to the design so that it can be fine-tuned to match the exact tastes and wishes of the client.
Project planning of the pool and patio area.
3D Modeling of the pool design.
Help with Permitting & HOA approvals.
Assistance with space planning, outdoor living amenities, pool features.
Change orders and design alterations.
Budgeting and assistance with financing a pool project.
02. Permits & Approvals
Permits are required to install a swimming pool in nearly every town and city across the country. It's not uncommon for people to create a swimming pool without the proper permits, and the results can be disastrous. Homeowners may be asked to remove their new pool and apply for the proper permits, in addition to paying hefty fines. If you're thinking of building a pool in Dallas, a permit is definitely required to begin construction on a swimming pool.
HOA Approvals & Permitting
If you have an HOA, you need to get in touch with them to figure out exactly what approvals you need. For a variety of reasons, including noise and safety, some homeowners' associations forbid their members from building swimming pools. Most HOAs, on the other hand, will let you begin construction on a pool with the proper documentation.
Prior to obtaining a building permit, it is often necessary to employ a pool builder to draw up your plot plan. A plot plan, or architectural layout of your property borders and pool schematics, is a document that many homeowners need. In addition to the dimensions of the pool, its distance from other structures, and the position of the pump, the fence's measurements and adherence to proper setbacks are also included in this document.
Associated Fees
Most municipalities and cities charge a fee to apply for a building permit for a swimming pool. Even within a few miles of one other, the pricing might be vastly different from one city to the next. Ask your builder about the exact fees you may be charged for the various construction aspects of your pool and outdoor living project.
03. Pool Excavation
Professional pool builders are needed to excavate a swimming pool. To build a swimming pool, it's necessary to go through a messy process. Excavation can only begin after an expert draftsman has measured your land precisely. A construction copy is drawn out during the process to correct any mistakes that may have been made.
Following the approval of building permits, you can begin pool excavation. It's on your schedule, so you can pick when it happens. Excavation for a swimming pool necessitates a few crucial steps.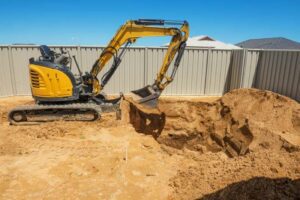 Pool Excavation Can Be Messy
The excavation of a swimming pool is a time-consuming and messy undertaking. Aside from being unsightly, it's also a bothersome process to begin with. It is necessary to put up with these difficulties in order to have a lovely outdoor escape.
How Long a Pool Takes To Excavate
For most residential pool installations, digging typically takes less than a day. However, if you opt for a more complicated design or a larger pool, the excavation process could take two days to complete. Underground obstructions and soil instability are also a problem in this area. To meet a deadline, the experts take on these obstacles head-on.
Soil & Safety Conditions in Your Backyard
Your backyard will be deluged with soil and rocks after the hole is dug. Excavation workers will use a dump truck to transport the material the same day. Soil may be left behind in some projects to provide new soil for the hole's fill. Preparation and leveling are two of the main benefits of this tool.
Because of this, your property will be left with a gaping hole significantly larger than the pool's real size. This additional area is required for the placement of the metal and concrete shell framework. Around the excavated area, exercise caution. Don't let your kids or pets go too close to any of the hazardous materials. The borders of the hole can be liable to crumble at certain moments.. So, stay away from the open area.
04. Steel Rebar
Steel rebar is used in concrete pools to provide structural support and a foundational form for the shape of the swimming pool. Rebar is a critical component of any swimming pool's structure since it adheres well to the pool's concrete foundation.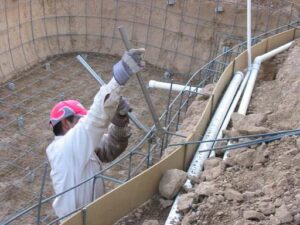 A Superior Strength Pool Structure
Rebar can be twisted into virtually any shape to form any pool design you can think of. No. 5 rebar is the standard for usage in residential swimming pools and will be properly installed by experienced professionals to the exact specifications in your design plan.
05. Plumbing & Electrical
It is at this point that the plumbers will begin installing pipes, skimmers and return lines as well as making sure that all drains are correctly installed. Bonding wire and light niches for the pool are likely being installed by electricians on-site at this moment in preparation for the Gunite crew.
Electrical Installation
An electrical breaker box, also known as a sub-panel, is installed by the electrician at the location where the swimming pool's equipment (such as the pump, filter, and heater) will be installed. If the sub-panel is 100 amps, the pump timer, pool lights, and other exterior lighting will all be powered by this box. It will also include an electrical outlet. The sub-panel can also power a booster pump for a pool cleaning or a salt chlorine system.
A junction box outside the pool deck will also be placed by the electrician. From the junction boxes, an electrical conduit returns to the subpanel. A bonding wire, which is a bare copper wire bonded to the steel rebar in the pool shell, should also have been installed by your electrician.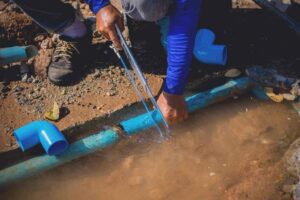 Plumbing Installation
Typically before backfilling the trenches, the plumbing crew should have installed most of the plumbing, and you may witness them pressure test the pipes. Afterward, your pool builder will proceed with the installation of all of your pool's electrical and plumbing systems. Many people erect a modest wall or plant plants to cover the pool's equipment, which is usually located outside. If you have a gas heater, you'll need to make sure that the heater is properly vented to the outside in order to keep it safe.
What Comes After Rough Plumbing & Electrical?
Your pool will undergo numerous inspections during the pool construction process, however it is normally typical to have an inspector come out and review all work before and after the gunite shell has been shot in the swimming pool. Pressurization tests will be conducted to ensure proper and adequate flow to all components and equipment in the swimming pool.
06. Gunite Shell
The point at which your pool looks like a pool has arrived. Gunite is a type of concrete that is fired out of a high-velocity pressurized gun by an experienced nozzleman. The material is shot out of the truck's hopper against the structural rebar. It is then carved and sculpted by finishers using trowels to get the final shape of your pool.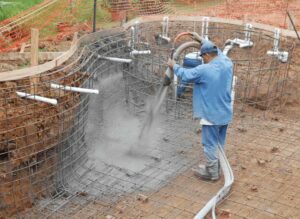 What To Be Aware of With Gunite Pools
Gunite must cure completely before plastering can be applied. Gunite cures over several weeks. During this step, do not be alarmed if you notice minor fissures in the rough surface; these will be covered by plaster. Keep an eye out for large cracks or disintegrating regions and notify your builder right once if you notice any.
You should have a pretty messed-up backyard by now. Dirt mounds and stakes protruding from every direction are possible outcomes. Deep wheel ruts in your grass yard and possibly the loss of one or more trees. It's like if a bomb went off in there. Hang in there; the major portion of pool construction has passed and your pool should really start to be resembling the end product in the design plan.
07. Tile & Coping
The optimal time to install perimeter tile and pool wall capstones is when your gunite pool shell is curing (brick, precast concrete or milled flagstone). At the water's surface, the perimeter pool tile provides a hygienic surface and assists in draining water away from the pool. The pool coping stones provide a safety grip for swimmers hauling themselves in and out of the pool.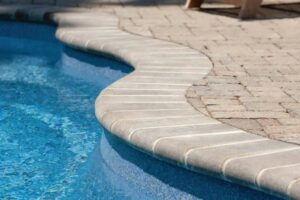 Ensuring a Beautiful Tile & Coping Job
Professional masonry crews will work to ensure a seamless and high quality job. The expansion joint between the pool deck and the back of the coping stones is caulked once the pool deck is added. Because of the changing seasons, the pool can grow and shrink independently. When the expansion joint is caulked, it prevents water from freezing and debris from blocking it up. Your pool builder will ensure this is done properly during installation.
Any masonry or rockwork that you've ordered will be completed now. To ensure that the decking can be poured all the way to the other face, any walls or walkways should be built now, before the decking is laid.
08. Deck/Patio
Your pool design consultant will work with you prior to building the deck as part of the initial pool construction concept. The deck and patio area directly correlate with the swimming pool and really should be part of the same construction project when planning a pool.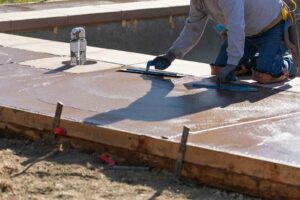 In reference to the construction of your deck / patio area – the deck crew will set the forms in accordance with your pool construction plan. The deck will be poured after the fact and scheduled with a concrete and masonry crew. At this phase, you're nearing the completion of the pool and will see the last of the heavy equipment going in and out of your yard.
It's not uncommon for customers to request alterations to the design or the amount of decking that will be poured. It is extremely difficult to install decking afterwards that matches the original deck in texture and color, so please take this topic very seriously. Also, please let us know your preferences ahead of time so that we can make any necessary adjustments and ensure that we have enough materials on hand to complete the project.
09. Pool Interior
Your swimming pools interior installation is one of the final phases of pool construction. Depending on the material selection you have chose for your pool, this process can take several days to several months to complete. Plaster interiors are the fastest to complete, while pebble and aggregate interiors take longer to install. Tile interiors require specialty contractors and are the most custom and time-consuming to install but produce breathtaking results.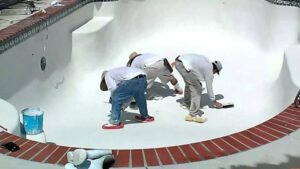 Most Common Pool Interior: Plaster
Most customers will opt for a plaster interior which is typically the final step. The pool plaster provides a smooth, luminous surface that is easy to clean and serves as a waterproof coating for the pool shell and steel.
It's fascinating to see a plastering team in operation; they work quickly, and a crew of four or five can do the job in three to four hours. Upon their departure, the pool will be filled with water. It's best to fill as quickly as possible without stopping, therefore if you have the ability to, use more hoses to hasten the process.
Important Aftercare
The plaster staff will leave you with plaster start-up and maintenance instructions. It's important to make sure you follow these recommendations to the letter, and coordinate with your pool builder to ensure that the plaster care is handled properly throughout the first few weeks of operation.
10. Pool Startup
During this stage, anything that has to be done before the end of the project can be finished up. At this stage, your swimming pool should appear almost finished. Equipment start-up and operation, as well as initial water chemical balancing should be handled by your pool builder.
Pro Tip: Record The Training Session on Your Smartphone
After that, your builder should plan an orientation session with you to help you learn about your pool and its various features.. Make a video of it so you can watch it over and over again. For a while, your pool's chemistry will fluctuate and require regular checks and balances, but it will ultimately settle down.

Horizon Pools is proud to be the pool builder of choice throughout the North Dallas area. Rely on our expertise for in-ground pool design & construction.
2346 Glenda Ln. Dallas, TX 75229
2346 Glenda Ln. Dallas, TX 75229